Professional
Products for
Professionals.
Custom products and custom installation of truck and van accessories. Send your crews into the field with the proper tools and equipment.
SOLUTIONS FOR PROFESSIONALS.
Regardless of your industry, count on Van Decor to fit your fleet.
Truck & Van Conversion Products
Van Decor works with the best products
We wouldn't have been in business for 20+ years if we didn't offer the best products and services the industry has to offer. From truck accessories and van accessories to total vehicle conversions. Van Decor serves the trade and fleet vehicle industry.
Van Decor's specialty is to transform trucks and vans into mobile workspaces for:
plumbers,
electricians,
installers,
construction companies,
and full fleet vehicles.
There is a lot of money tied up in hand tools, equipment, materials and parts with your business,
Van Decor will help protect all of that with the proper products to store and secure it.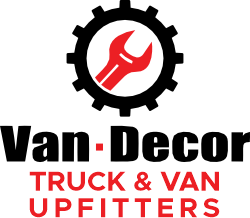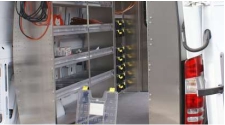 TRUCK TOOLBOXES
Locking truck toolboxes. Keep your tools, parts and accessories safe and clean.
Saddle Box, Cross Box, H-Side Box, Pork Chop Box, Lo-Side Box, Underbed Box
TRUCK LADDER RACKS
A variety of options to suit every vehicle, trade, or business.
Ladder racks keep your ladders out of the way and safe when traveling.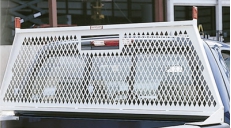 TRUCK CAB PROTECTORS
Protect the cab of your truck .. and you. Truck cab protectors protect the cab, glass and you from shifting loads in the cargo area.
Think of it like the hard hat you probably have to wear to protect you on the job.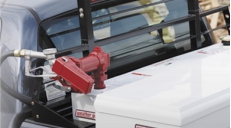 FUEL TRANSFER TANK
Designed specifically for transferring diesel fuel from the bed of a pickup truck to heavy equipment.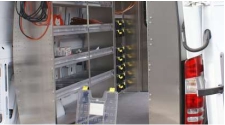 VAN SHELVING
Why do use a van for your business? Probably because you wanted more space than the back of a truck. Are you using the space properly?
If not, you need to organize your van. Start with Van Shelving. This allows for tools, parts and products to be stored off of the floor. It also leaves you room to walk in and out, even work in the van if needed.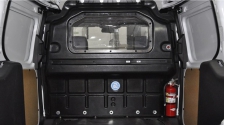 TRUCK & VAN PARTITIONS
Composite or Clear Plexi Partitions. Partitions provide safety to the driver and passengers. Partitions also offer significant improvements for climate control. Heat and cool just the front part of your van, not the whole van.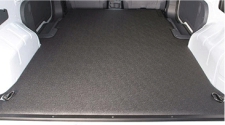 VAN FLOOR LINERS
Anti-slip van flooring will protect the safety of your fleet personnel and your vehicles. All of our floor liner products are made of very high quality, eco-conscious rubber and are guaranteed for the time you own your vehicles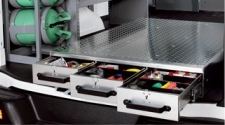 VAN DRAWERS
Looking to keep your parts organized? Built with aluminum, these van drawers and cabinets will reduce the overall weight of your cargo van upfit. This allows more capacity for your tools and cargo.
Backed by a solid warranty, these van drawers and cabinets will provide you with many years of worry-free and rattle-free operation.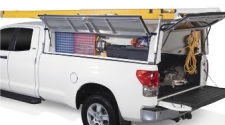 TRUCK TOP COVERS
Looking for upgraded accessibility and versatility? Truck toppers can be easily removed and reinstalled on virtually any new chassis. Ask us about older model vehicle truck toppers.
The high-strength composite is ultra-lightweight compared to commercial vehicles, reducing the stress forced on tires, brakes, and suspension systems. This reduction in weight not only minimizes the need for routine maintenance but also improves fuel efficiency and the unit's overall life cycle value.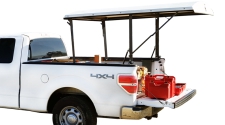 TRUCK TONNEAU COVERS
Lightweight Tonneau Covers offer a unique work truck solution that combines advanced composite construction with high-strength durability, performance, and dependability. The corrosion-resistant body provides longer service life and better life cycle value for service fleets, while also maintaining a high-quality appearance that looks newer, longer.
The range of available options makes upgrading service trucks easy, with enhanced capabilities that meet the demands of most applications.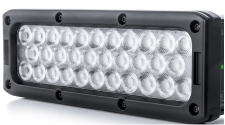 LED LIGHTS FOR VEHICLES
Work different hours than just 9 to 5? 
Need to see in the dark? Light up the night like daylight with our wide selection of LED Lights. 50+" curved light bars and small LED lights for inside and outside of your vehicle.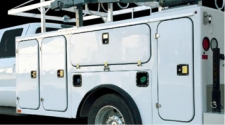 TRUCK BODIES
Truck bodies combine strength, performance, and ample storage space, all packaged together in a lightweight composite body that weights up to 60% less than conventional steel bodies.
This lower weight load improves fuel efficiency for service fleets while lessening the stress forced on tires, brakes, and suspension systems—reducing the costs of routine maintenance and adding more to long-term savings.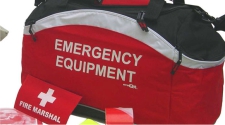 SAFETY EQUIPMENT
Safety equipment for your truck and van. Let's face it, accidents do happen … and when they do it's best to be prepared.
Simply adding a first aid kit and a fire extinguisher will help stay safe until more help arrives. Ask the staff at Van Decor to help you add safety equipment to your van or truck conversion.

Van Decor customizes and outfits vehicles for those who work in the field. Trades need to look professional, stay organized and don't want to lose profit to lost, broken, or stolen tools and inventory.
We have products for all. General Contractor, Delivery, Electrician, HVAC, Locksmith, Mechanical, Painter, Plumbing, Public Utilities, Roofing & Siding, Remodeling, Telecommunications, Satellite Installations, Refrigeration, Landscaping, and General Service.
Customizing Vans, Trucks, Trailers, and more for all trades and industries.
Contractors
Eavestroughs
Plumbers
Electricians
Landscapers
Refrigeration
Roofing
Couriers
Siding & Stucco
Telecommunications
Cable & Satellite Installers
Window Washing
Oil & Gas
Our Location
Van Decor is located west of Regina. West of the Global Transportation Hub on Dewdney Avenue.