Van Decor | Truck & Van Outfitters
Helping professionals work since 1992.
Your truck or van is your office, shop, warehouse and your public image.
We Get It. Most people who work in an office, have desks and filing cabinets and storage rooms for all of their supplies. While you, the professional, on the road, out and about doing all the work for the people in the offices are mobile. You need the same features for your truck or van.
Van Decor specializes in truck and van conversions for commercial, oil field, trade vehicles and just about any business that relies on a a truck or van to perform their job.
As custom designers and installers of truck and van storage and work systems, Van Decor has been outfitting businesses and trades since 1992.
We've worked with all of these types of businesses with their vehicle conversions.
Protecting your investment of tools and product and having a viable work space are just a few benefits from a truck or van conversion by Van Decor. There are so many more accessories that can be custom fitted to suit your needs.
Consult with Van Decor about your next vehicle as we probably have a solution for your issue that you may not have thought of or even exists.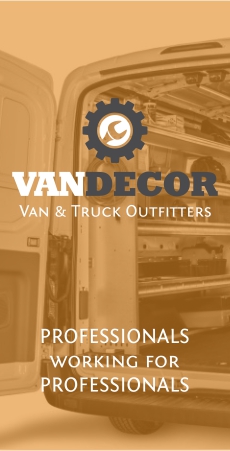 Cable TV
Plumbers
Electricians
Gas Utility
Construction
HVAC
Landscapers
Refrigeration
Roofing
Maintenance
Contractors
Eavestroughs
Couriers
Siding & Stucco
Telecommunications
Cable & Satellite Installers
Window Washing
Oil & Gas
About Regina Van Decor
Van Decor customizes and outfits vehicles for those who work in the field. Trades who need to look professional, stay organized, and who don't want to lose profit to lost, broken, or stolen tools and inventory.
We have products for all. General Contractor, Delivery, Electrician, HVAC, Locksmith, Mechanical, Painter, Plumbing, Public Utilities, Roofing & Siding, Remodeling, Telecommunications, Satellite Installations, Refrigeration, Landscaping, and General Service.
Helping Regina's Trades
Customizing Vans, Trucks, Trailers, and more for all trades and industries.
Contractors
Eavestroughs
Plumbers
Electricians
Landscapers
Refrigeration
Roofing
Couriers
Siding & Stucco
Telecommunications
Cable & Satellite Installers
Window Washing
Oil & Gas
National Safety Mark
Van Decor is approved to affix the National Safety Mark label.
Transport Canada safety regulations require all companies that modify or add equipment to new vehicles to be registered and approved by Transport Canada.