Where is Van Decor Regina?
Truck & Van Outfitters Regina
We work for those who work for everyone else
Are you a Regina tradesman or professional who works in the elements?
Your truck, van, or vehicle are as much a part of your job as your knowledge, training, and tools. Why not protect them and organize them with the right accessories. Have Van Decor outfit your truck, van, or vehicle to suit your trade or service.
Van Decor has been providing professional services, knowledge, and truck and van accessories to Regina's trades, professionals since 1992. Contact Van Decor. Your Regina Truck & Van Outfitters for the professionals.
If you are in the service trade and require a truck or van to operate your business, you need to contact us.
No matter if you have one vehicle or a whole fleet of vehicles, Van Decor can outfit them with the proper accessories to keep your staff, products, and clients safe. Not to mention helping you save money by no lost or damaged inventory or equipment.
Van Decor is located just minutes west of Regina on Dewdney Avenue (Highway 730) past the Global Transportation Hub and north of Grand Coulee.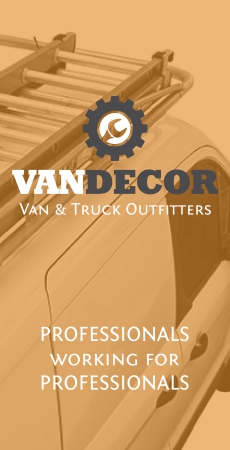 About Regina Van Decor
Van Decor customizes and outfits vehicles for those who work in the field. Trades who need to look professional, stay organized, and who don't want to lose profit to lost, broken, or stolen tools and inventory.
We have products for all. General Contractor, Delivery, Electrician, HVAC, Locksmith, Mechanical, Painter, Plumbing, Public Utilities, Roofing & Siding, Remodeling, Telecommunications, Satellite Installations, Refrigeration, Landscaping, and General Service.
Helping Regina's Trades
Customizing Vans, Trucks, Trailers, and more for all trades and industries.
Contractors
Eavestroughs
Plumbers
Electricians
Landscapers
Refrigeration
Roofing
Couriers
Siding & Stucco
Telecommunications
Cable & Satellite Installers
Window Washing
Oil & Gas
National Safety Mark
Van Decor is approved to affix the National Safety Mark label.
Transport Canada safety regulations require all companies that modify or add equipment to new vehicles to be registered and approved by Transport Canada.