Protecting your investment. Including the workers operating the vans and trucks in your fleet. Everything from Cargo Management, Cab Partitions and Safety Products.
PROTECTING PEOPLE, TOOLS & PRODUCTS.
Helping keep the work force safe and more productive in the field.
Truck & Van Conversion Services
Cargo Management for Regina's Tradespeople
Van Decor at Your Services
Van Decor is your single source for truck and van conversions. We pride ourselves in being able to outfit any vehicle to meet the needs of our clients, no matter if it is one vehicle or a whole fleet. We are dedicated to our craft and we love to keep our clients satisfied by offering the products and services they require.
The following services are available from Van Decor:
Full Truck Conversion
Full Van Conversion
Truck and Van Accessories
New Replacement Parts
Used Parts
Vehicle Decaling
Mobile Security Cameras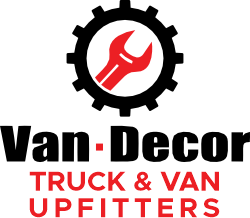 Van Decor customizes and outfits vehicles for those who work in the field. Trades need to look professional, stay organized and don't want to lose profit to lost, broken, or stolen tools and inventory.
We have products for all. General Contractor, Delivery, Electrician, HVAC, Locksmith, Mechanical, Painter, Plumbing, Public Utilities, Roofing & Siding, Remodeling, Telecommunications, Satellite Installations, Refrigeration, Landscaping, and General Service.
Customizing Vans, Trucks, Trailers, and more for all trades and industries.
Contractors
Eavestroughs
Plumbers
Electricians
Landscapers
Refrigeration
Roofing
Couriers
Siding & Stucco
Telecommunications
Cable & Satellite Installers
Window Washing
Oil & Gas
Our Location
Van Decor is located west of Regina. West of the Global Transportation Hub on Dewdney Avenue.